Off the Beaten Path in Las Vegas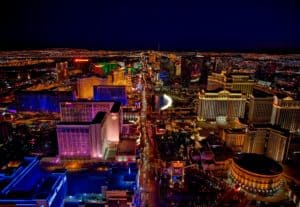 If you have an extended trip coming up and you're staying in corporate housing near Las Vegas, then you're in the perfect spot to enjoy all the off-the-beaten-path attractions that surround Sin City. Most people think of The Strip when they think of enjoying time in Las Vegas, but if you've been in town for more than a week, you're probably tired of the same old song and dance. Luckily, there are lots of options in and around the rest of Las Vegas that you can check out during down time on your trip. Here are some of the best spots to hit before you leave.
The Neon Museum, 770 Las Vegas Boulevard North
While this gem is located along Las Vegas Boulevard, it's far removed from the bright lights of The Strip though it has some beautiful lights of its own. The Neon Museum was founded in 1996 to preserve the history that Las Vegas is known for – those stunning lights. At this museum, you'll be taken on an hour-long guided tour through a graveyard of preserved but retired neon signs that used to pepper the city dating back to the 1930s. You can tour day or night when the lights shine bright!
Red Rock Canyon, 1000 Scenic Loop Drive
If you've been in town awhile staying at corporate housing near Las Vegas, then you probably have access to a vehicle. Take advantage of it and get back to nature just 35 minutes west of The Strip at Red Rock Canyon. This natural area features 195,000-plus acres with 30 miles of hiking trails, rock climbing, and mountain biking, but also offers a scenic loop through the park with various overlook stopping points. The park is open all year-round, so no matter what the weather is doing when you're in town, you can enjoy this beautiful area.
Ethel M. Chocolate Factory, 2 Cactus Garden Dr, Henderson, NV
Have a sweet tooth? Just about 11 miles east of The Strip lies Ethel M. Chocolate Factory where you can enjoy samples and tour the facility. You can even sign up for a chocolate tasting where you'll sample a variety of their delicious sweets. While you're onsite, visit the Botanical Cactus Garden which is Nevada's largest cactus collection and one of the world's largest collections of its kind!
Don't just see The Strip and the inside of your corporate housing near Las Vegas. Get out and explore the outlying areas off the beaten path for unique adventure and excitement! Contact us today to learn more about our corporate housing near Las Vegas today!